Our friend Suzan Alparslan had a great idea – Let's make a holiday card to support MILO'S SANCTUARY, a special needs animal rescue facility, and I said OF COURSE!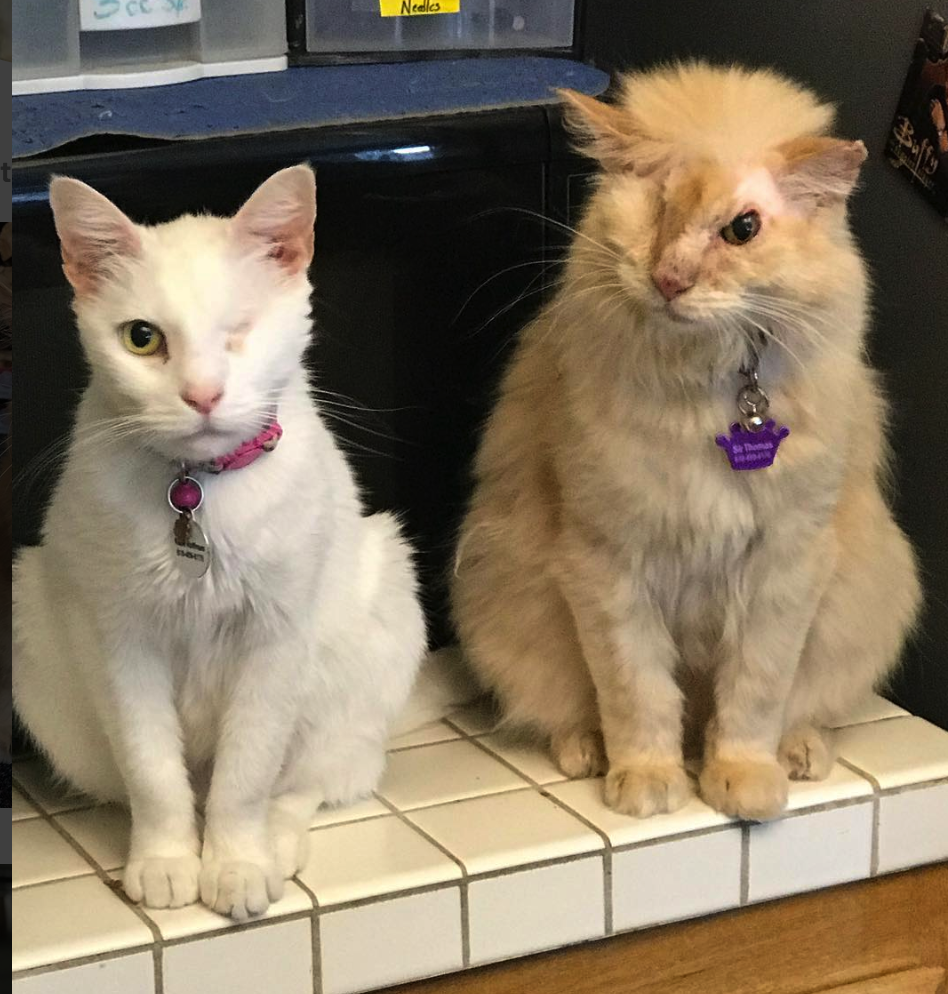 Of all the wonderful cats at this rescue, Suzan gravitated toward Sir Thomas Trueheart to create this heart-warming card. All profits from sales of this beautiful holiday card go to www.milossanctuary.org to help with the life-long care of all their special needs family. Please consider the purchase of these cards as a direct gesture of loving support.
Here's what Suzan says . . .
"I don't remember exactly when I saw his face on Instagram, but something changed in me when I did. When I read the sweet first-person description of Sir Thomas, or "Tommy" Trueheart I melted:
'Milo's Sanctuary, a special needs cat rescue, saved my life after I had acid poured on my face. I'm now a spokescat for the abused & forgotten.'
Straightaway, I was drawn to visit Tommy at Milo's Sanctuary encountering a cow, some goats, an alpaca and other rescued farm animals. I opened the door to the modest-sized house and saw a cat whose hind legs were paralyzed zooming happily across the room. There was a beautiful blind cat jumping up onto a cat tree, smelling and listening his way around, as if impaired sight was the norm. I stepped out onto a covered porch, and there he was, approximately 10 lbs. of inspiration just sitting, Zen-like on a chartreuse-green couch, which purrfectly complemented his warm, orangey tones.
Yes, this defenseless cat's abuser left him with distinct features, but they are not what makes him irresistible. His True character is immediately recognizable as that of a survivor. Bad things happen to many sentient beings, but there is something this animal reflects back to the human eye that reminds us of what matters. It is this - histranscendencethat makes him uniquely adorable. And, of course, he and others like him, would not get the chance at a full, happy existence without the humans who go to great lengths to rescue and care for animals in need. His rescuers, the people of Milo's Sanctuary, value life in all its many forms. They understand that these special needs fur-babies are whole, deserving of love, even if they appear different, or don't have "normal" use of a limb, or an eye. These people are the heroes. They gave Sir Thomas a chance to be the hero he "Truly" is.
Please read more about these special souls and join me in supporting MILO'S SANCTUARY in their efforts of love."
5 x 7 matte finish
set of 10 per order
includes envelopes
recycled material
Milo's Sanctuary & Special Needs Cat Rescue, Inc. is a non-profit 501(c)(3) founded on the belief that all cats deserve a second chance at life, especially those that have physical disabilities, are seniors, have a terminal illness, or have been abused and need someone to care for, love, and understand them.